Welcome to Cure Touch Massage Rexburg
Call Us: 208.557.3516
Fax: 208.549.7575
Get special offers and last minute openings via text message!
Text SUBSCRIBE to +1 (208) 874-4154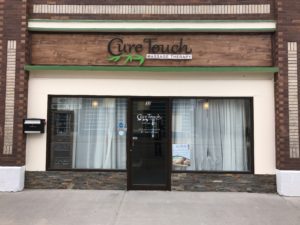 Cure Touch Massage has been serving Rexburg Idaho since 2010 and began by the efforts of Emily Larson (Thompson). See About page.
Cure Touch Massage began in a small Chiropractor's office on East Main Street and quickly required a larger space. We are able to accommodate up to 6 massages at once in our four rooms.  The larger room accommodates Couples Massages which are very popular. In 2014 we added facials and in 2015 we added body waxing as a service.
Rexburg was a great place to begin because of the diverse college community from all over the country. We have helped over 5000 clients overcome their sore and tired muscles. Massages start at just $35 dollars.
Take advantage of our Loyalty Rewards Program and earn generous rewards on each purchase.
Did you know that studies have shown that regular massages may add as much as 6 years to your life? Getting massages twice a month would definitely increase your quality of life.
Were you injured in a car accident? Cure Touch Massage Therapy accepts personal injury claims such as car accidents and workers comp. Come and receive real results for your aches and pains.
Massage can:
Reduced stress
Alleviate low-back pain and improve range of motion
Increased awareness of your body
Assist with shorter, easier labor for expectant mothers and shorten maternity hospital stays
Reduce spasms and cramping
Enhance immunity by stimulating lymph flow—the body's natural defense system
Help athletes of any level prepare for, and recover from, strenuous workout
Increase joint flexibility
Pump oxygen and nutrients into tissues and vital organs, improving circulation
Relieve migraine pain
Release endorphins—amino acids that work as the body's natural painkiller
Parking is available on the street or on the corner of Carlson Ave and Center Street. After 5 pm parking is also available behind our clinic in the school parking lot. See image below.